Llassi Wolfsong
Llassi
Guild Farming List allows guild members to communicate what is currently needed for the guild bank. This is done by adding items to a list within the Guild Farming List addon. Once an item is added to the list, everyone else in the guild that has this addon will be able to see the item on the list.
https://www.curseforge.com/wow/addons/guild-farming-list
Uses: If you are looking for a specific Mat to skill up a profession or perhaps some upgrade only dropped in a dungeon You can place it in this list. That way when we are planning events we will see who needs what from the dungeons, or if while on a guild event the mats that have been requested drop we know not to put them in the guild bank but to give them to the member who is looking for them.
It is easy to use, jsut like writing on a notepad.
For Example: Llassi is looking for upgrades to her gear and has chosen the Shadowcraft Set so lists it in the Guild Farmer. LX, our Events Officer logs on and hovers their cursor over the Mini map icon and a list of what is being requested. Knowing that this gear is a drop from Blackrock Spire so organises a Guild EVent to Blackrock Spire.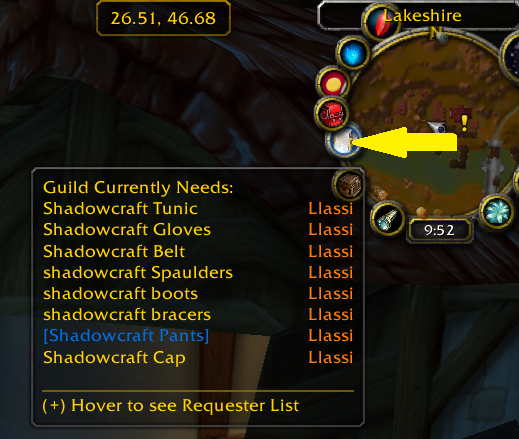 Shabar is skilling up her Alchemy but has come to a stumbling block as she needs some herbs that are dropped in a zone too high for her level, so posts in the Farming list what herb and how many she needs. Grumpz is currently questing in that zone and noticing that Shabar is needing a drop from there will now be on the look out for the requested herb.
The Farming list has no other purpose other than to help us help each other either in gettng mats for each others professions or in improving our gear by planning events around what Dungeons that can help our members.