Llassi Wolfsong
Llassi
As a member of Fate of Kings we require you to download an use a couple of add ons to not only enhance your time in the World of Warcraft but to also make things easier for you in Guild. First, let me reassure you that it's not very hard to install them and that AddOns are allowed, even enouraged by Blizzard to compliment your gameplay. These recommended Add ons have been tried and tested by The Senior Officers and do not slow down your game play, or harm your device in anyway.
What are Add Ons?
The World of Warcraft default UI doesn't provide you with enough information at a glance during a raid for example, it's too large on the screen so that it takes up to much screen real-estate, and it can be really clunky with all the windows popping up everywhere which you aren't able to better arrange.
Fortunately, expansive add-on support fills that gap, providing you with thousands of different options for how you want your game to look. Some add-ons are aimed at avid raiders, while others tackle those all-important professions. Basically Add-ons are "quality of life" modifications for World of Warcraft that serve to improve or simplify your gaming experience. They allow you to custom tailor your game by enhancing and simplifying elements of gameplay, adding certain features, and allowing you to customize your user interface (UI). Most experienced players would agree that having at least a few specific add-ons are necessary to be able to play World of Warcraft at an intermediate or higher skill level. With so many options, it's tough to know what add-ons are worth your time. We've dug deep and tracked down the best of the bunch for general, all-purpose use. Each add-on can do a lot for a player from changing how the UI looks to notifying you of certain events with a boss and will make your World of Warcraft experience far more pleasant, whether you're a raider, tradesman, or simply keen to level up fast.
Addons have always been a part of WoW, becoming increasingly common over the years since the game's release, and allow players to do everything from customizing their UI and calculating their DPS to using complicated systems for maximizing their trading efficiency on the auction house.
There's a whole list of them that will help you do quests, level up, raid, and more.
With this in mind Some players believe inorder to be able to play without coming up against many roadblocks to theirjourney, they cannot play without a set number of AddOns while others believe in the purity of the game and that using AddOns takes away from how the journey should be. Some AddOns have been broken and some rendered obsolete. While some have been around for years, ever evolving with the game. Sometimes Blizzard even takes notice of some AddOns and will incorporate it into the default game UI.
Is using Add On Permitted by Blizzard?
AddOns are bundles of code made by fans that extend WoW's interface in various ways. When Blizzard built WoW, they had the foresight to include an API that coders could use to essentially add their own features to the game. From simple clocks to giant databases of where to find virtually any piece of dropped loot to auction house scanners/analyzers, there an impressive array of AddOns out there. With this continuing popularity of World of Warcraft user interface add-ons created by the community of players, Blizzard Entertainment has formalized design and distribution guidelines for add-ons. These Guidelines have been put in place to ensure the integrity of World of Warcraft and to help promote an enjoyable gaming environment for all of our players - failure to abide by them may result in measures up to and including taking formal legal action.
The Add ons you want to watch out for are things that are programs in their own right -- usually these will have .exe file extensions on Windows, or /.app on Macs. These can be against the Terms of Service; furthermore, it's technically possible that one of them could include a keylogger to steal your account name and password. An example of an illegal program is WoW Glider, which basically plays the game for you by sending keystrokes to WoW. This program is very much against WoW's Terms of Service, and can certainly get your account perma-banned. Yikes. So watch out for EXEs.
Searching for Add Ons
There over 6,500 AddOns and counting. With so much to choose from how do you track down the AddOns that you want to use or are best for your playing style? There are 3 basic ways to do this.
Known Add On - If you know what the AddOn's name is you can do a quick search for it using the search feature. You will need to know the name of the AddOn to use this feature. Make sure you use spaces between words as it is in the AddOn's name or it might not find it.
Known Category - If you know what you are wanting an AddOn for, but don't know the name or if there is an AddOn out there, you can use the Category (e.g. CurseForge) or Stand Alone (e.g. WoWInterface) feature. This will sort AddOns by the categories the author has put it in. Best if you are looking for Class, Profession, Playing Style, etc. specific AddOn.
I Don't Care - If you are just wanting to see if there are any cool AddOns out there, or what is popular you may want to use the
These will showcase the newest AddOns and the most popular downloaded ones.
Where can I find Blizzard Approved Add ons?
While long-time World of Warcraft players will undoubtedly be familiar with the process of installing addons, for those who are trying out WoW for the first time with Classic, or are returning to the game after an extended absence, it might not be so obvious.
Some of the popular sites for Add ons are, (click on the link to be taken to the site)
Twitch App - The new Twitch App (formerly known as Curse App) also includes a VoIP as well as host lots of the communities, and expanding integration with Twitch. If you want the App to focus on your addons and not the community aspect you can always change the settings to turn off a lot of the other things

.
<!-- [if !supportLists]-->o <!--[endif]-->OS Supported: Windows XP+ and Mac OS X 10.9+
<!-- [if !supportLists]-->o <!--[endif]-->Games Support:
<!-- [if !supportLists]-->§ <!--[endif]-->World of Warcraft
<!-- [if !supportLists]-->§ <!--[endif]-->Minecraft
<!-- [if !supportLists]-->§ <!--[endif]-->Rift
<!-- [if !supportLists]-->§ <!--[endif]-->Wildstar
<!-- [if !supportLists]-->§ <!--[endif]-->Runes of Magic
<!-- [if !supportLists]-->§ <!--[endif]-->The Elder Scroll Online
<!-- [if !supportLists]-->§ <!--[endif]-->The Secret World
<!-- [if !supportLists]-->§ <!--[endif]-->Secret World Legends
<!-- [if !supportLists]-->§ <!--[endif]-->World of Tanks
<!-- [if !supportLists]-->§ <!--[endif]-->Darkest Dungeon
Advertisments: None

One Click install All

Addon Sync

Settings Backup

Download from Official site Only (click on the link or look in our list of links)
Addon Version Install: Yes (can install Alpha, Beta and Released version)
Curseforge - Most of the addons for World of Warcraft we download from

curseforge.com

. The easiest way to install the addon is with

Twitch App (previously Curse Client)

. The app is for computers and

WoW laptops

with Windows and MacOS operating systems. Very easy to use.
WoW Interface

-

If you really want the full Classic experience, or for whatever reason want to install an addon that you can't find on Twitch, it's still possible to install them manually. After downloading the addon in the form of a ZIP file from a site like

WoWInterface

or

WillitClassic

, the file must be extracted and placed in your

addons folder

for

Classic WoW

.

Find where your World of Warcraft is installed – by default in Program Files, but if you can't find it you can navigate to it directly through Battle.net via "Show in Explorer" in the Options drop-down in the World of Warcraft tab – and select the _classic_ folder, then Interface, then AddOns. This is where you need to place the files for the addons you want
MMOUI Minion - The Minion has only a Free version.
OS Supported: Window Vista+ and Mac OS X 10.8+

Games Support: World of Warcraft and The Elder Scrolls Online

Advertisements: No, removed in Version: 3.0.7

One Click install All

Download from: MMOUI Only

Addon Version Install: Doesn't appear to
The process for downloading add-ons should be the same regardless if you have a PC or Mac.
Installing Classic addons manually
The easiest way to install addons is the manual route. This has you downloading .ZIP files, extracting them, and tossing them into your game's install location. So download your addons of choice and get started. You need to find your WoW files. The game is on your C drive by default, and location should look something like this: C:Program FilesBlizzardWorld of Warcraft_classic_.
Browse to the Interface folder and then the AddOns folder inside of that.

Drag your uncompressed addon to the addon folder.
When you load up the game your addons will be there.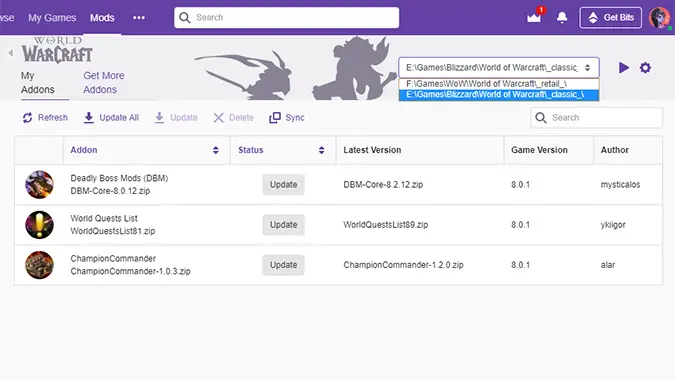 Install addons with the Twitch client
Twitch might primarily be a broadcasting platform, but it does offer some other services thanks to the company's acquisition of Curse, and for World of Warcraft players that means having access to a one-stop shop for all your addon needs.
To use several of the features provided by Twitch you will need to install the desktop application. This is a fairly easy procedure, but here is a guide to help you through the process. Primarily, to help keep your computer and gaming accounts safe there are a few things you should be aware of when downloading the Twitch App.
MOST IMPORTANT is that when downloading anything for Twitch, (application, addons, mods, etc.) ALWAYS make sure you are downloading from the Official Twitch Site. They DO NOT host anything on 3rd party sites. The ONLY Exception to this is when Twitch Support may give an alternative download link when troubleshooting.
DO NOT use Google to search for "Twitch" as this can lead to fake Twitch sites with compromised Twitch App downloads. While the team a Twitch Support do their best to search find and remove all fake applications and sites, they are only human and some do slkip through their nets, so to speak. The best way to protect your system is to make sure you scan all downloaded applications before installing them.
Twitch, nor any of their Employees will EVER ask you for your game accounts login information. DO NOT give out this information in any Twitch chats, even if you think it is with Twitch Support. Please make sure that your Twitch account password does not match that of any of your gaming accounts.
The benefit of using Twitch over manually installing the add-ons is that
you can see which add-ons are popular,

use that information to gauge whether you could benefit from its utilization.

Twitch will also prompt you when an addon needs updating, which is done by the click of a button.
The Twitch client that many already use to install addons from (and to keep them updated) in Retail can also work for Classic.
Here's how:
Open your Twitch application

Go to the Mods section, then click

World of Warcraft

From the top right drop down menu, select the folder for

WoW Classic

(note that if you want to go back to retail

WoW

addons, you'll need to change the folder back)
Now, you can install addons directly from Twitch
But there's a slight problem, because Twitch is packed with new addons for both retail and Classic, and many Retail add ons won't work in Classic. Therefore you need to make sure to search for "classic" or "wow classic". You need to make sure you set the correct location for the Classic Files on your Device and Once you find an addon, click into its description and double check that it'll work in Classic.
How to Install WoW Addons
1: Exit World of Warcraft completely - This is because all the addons are loaded after you login to your account
2: Download the addon you want to install
Make a folder on your desktop called "My Addons"

Save the .zip/.rar files to this folder.

If, when you try to download the file, it automatically "opens", you need to RIGHT click on the link and "save as…" or "Save Target As".
If you can't find the Classic WoW version of the file path, then Twitch isn't registering that you have Classic WoW installed. Don't worry, there's an easy fix to this. Simply click on the cog symbol next to the box and when the drop-down menu appears, click 'Scan for installed games'. Once the scan is complete, you will be able to select Classic WoW as an option and get busy installing your add-ons.
3: Extract the file – commonly known as 'unzipping' – Do this ONE FILE AT A TIME!
Windows
Windows XP has a built in ZIP extractor. Double click on the file to open it, inside should be the file or folders needed. Copy these outside to the "My Addons" folder.

WinRAR: Right click the file, select "Extract Here"
WinZip: You MUST make sure the option to "Use Folder Names" is CHECKED or it will just extract the files and not make the proper folders how the Authors designed.
Mac Users
StuffitExpander: Double click the archive to extract it to a folder in the current directory.
4: Verify your WoW Installation Path
That is where you are running WoW from and THAT is where you need to install your addons.
5: Move to the Addon folder
Open your World of Warcraft folder. (default is C:\Program Files\World of Warcraft\)

Go into the "Interface" folder.

Go into the "AddOns" folder.
In a new window, open the "My Addons" folder.
The "My Addons" folder should have the "Addonname" folder in it.
Move the "Addonname" folder into the "AddOns" folder.
6. Start World of Warcraft
7. Make sure AddOns are installed
Log in.

At the Character Select screen, look in lower left corner for the "addons" button.

If button is there: make sure all the addons you installed are listed and make sure "load out of date addons" is checked.
If the button is NOT there: means you did not install the addons properly. Try repeating the steps or getting someone who knows more about computers than you do to help. There are plenty in our Guild Family who can help, with tech advice.
Staying Up to Date
World of Warcraft doesn't stay the same. There are expansions and patches. When these happen the World of Warcraft tags older AddOns as "out of date". This tag prevents the them from loading unless the game is told to. This is shown in your Add Ons like the following
For some AddOns, following a patch, there is nothing that is broken or needs to be updated, and the AddOn works just as well after the patch/expansion as it did prior, and all it needs is a simple TOC update. In other cases, if there are major changes to say like the API in the game it can take days, weeks if not months for AddOn authors to get broken AddOns fixed. Just because it is out of date doesn't mean that you don't have the latest version of the AddOn. So it is best to check and see if you have the latest version of the AddOn. Both WoWInterface and Curse shows what version of the AddOn you are getting on the AddOns page.

If you have the latest version you may want to load out of date AddOns. As mentioned prior sometimes there is nothing wrong with the AddOn except the TOC needs to be updated. However, loading out dated AddOns that are broken by a patch/expansion can cause issues with your game, the AddOn and other AddOns. So use with caution and make sure you disable AddOns that are broken and waiting an update.

To load out of date AddOns log into World of Warcraft and on your Character Select Screen in the lower left corner in a button labeled AddOns. Clicking this pulls up all your AddOns installed.
At the top you will see a Load out of date AddOns. Checking this will tell the game to load those AddOns that are not currently updated.

Using this feature can cause issues with your game and/or AddOns if you load an out of date AddOn that is badly broken by an update. So if you have issues after turning this on turn it back off, or use Option 1 in the Basic Troubleshooting to find the bad AddOn(s) and disable it.
Using addons in-game
Once you've got addons installed, you'll see an "AddOns" button appear in the lower left-hand corner of the character select screen when you log in. This will open a menu that allows you to enable or disable your addons and, in some cases, their constituent parts.
Add-on settings can also be found in the settings menu while you're in the game itself, although some changes might require you to re-log in to take effect. Some addons also come with their own menus and settings.
Sometimes you might find your addons become out of date and no longer function correctly, or at all. Assuming the creator is keeping them updated, you can easily download any available updates through the Twitch app if you're using it, or if you're not you may need to install a more up-to-date version manually.